Anneroos Paternotte
Graduation project: Bio-regeneration of substances that can adsorb pesticides
Hello, I am Anneroos Paternotte, 21 years old and a fourth-year student of Biomedical Research at Hanze University of Applied Sciences. During my internship I will be doing research into the bio-regeneration of substances that can adsorb pesticides.
Pesticides are useful for agriculture and horticulture but are often difficult to biodegrade and can have a negative effect on organisms when they end up in our surface water. The goal of my project is to find a substance that can absorb pesticides and which can be biologically regenerated, so that the adsorbent can retain its activity.
I am very excited to be part of this project and to be able to work with the Bioclear earth team. It is a company with an open and friendly atmosphere and is bursting with knowledge.
Marcel Zandberg
Graduation project: visualization of microbial network of different soils using 16s rRNA data
My name is Marcel Zandberg, 21 years old and I am from Siegerswoude. I am a bioinformatics student at Hanze University of Applied Sciences in Groningen. As a bioinformatician I am mainly involved in the development of computer programs to solve biological problems.
As a part of the final year of my studies I am doing my graduation internship at Bioclear earth. I am involved in project concerning soil health and I am developing a way to visualize the microbial network in the soil and possibly, establish relationships between the keystone species. With this I hope to be able to determine the cause of the differences between soil samples.
For example, why are there nematodes / pests / pathogens present in one plot and no in and other? Is it possible to draw conclusions, using the differences in 16s rRNA data from the soil samples of these plots, on how you can improve the quality of plots? I think this kind of data can have a lot of added value for the agricultural sector.
Bart-Jan van Dijk
Internship assignment: life cycle analysis of bio concrete
My name is Bart-Jan van Dijk. As part of my master Energy and Environmental sciences (RUG) I will be doing a six months research into the sustainability of bio concrete made with bacteria. I will investigate this with a life cycle analysis, in which all processes and materials are assigned an environmental impact. Sustainability is complex because everything is connected and problems can shift, so a helicopter view is needed to make processes circular.
Constantly creating new solutions and finding new connections, makes this work interesting for me and I am happy to join the mission of Bioclear earth.
Marieke Coolman
Internship assignment: growth tests with watercress
Hello, I am Marieke Coolman, 18 years old, and I am studying laboratory technology at the Noorderpoort in Groningen.
During my internship I will examine how watercress grows with adding certain bacteria and whether these deteriorate or improve growth. In addition, I will look into the effects on plant growth when the plants are under drought, salt or heat stress. I also help with the lab work at Bioclear earth on several other projects.
I enjoy doing an internship at Bioclear earth. Everyone is very open and always ready to help you. They also come up with good ideas to improve your project.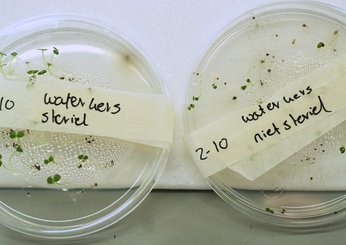 Internships at Bioclear earth
Are you interested in an internship at Bioclear earth? Send a personal motivation letter and your curriculum vitae to info@bioclearearth.nl.