Groundwater remediation and location development Holwert- Zuid
Some things get easier under pressure
Holwert-Zuid is a location close to the city centre of Coevorden, were the former activities of a chroming factory led to extensive soil contamination with solvents. In 2013 the province of Drenthe started a public tendering procedure for groundwater remediation. The pressure on all stakeholders was mounting due to the aboveground development plans for the location: the demolition of the industrial buildings and the building of a new shopping centre which reconnects the area to the historic city centre.
The innovative approach of Bioclear earth and NTP milieu was chosen as the most viable. The decisive factor was that the design of the remediation takes into account that the building process of the shops could still take place without delay during the clean up process and the shops would be open by Christmas 2014.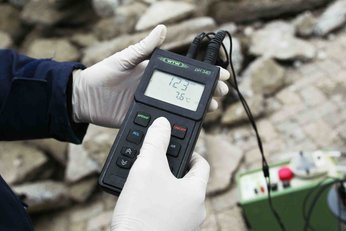 Development and remediation go hand in hand
In august 2014 the remediation started with extraction and infiltration of groundwater in an area with extremely high concentrations of solvents, while simultaneously adding a chemical oxidation treatment. Subsequently in areas with lower concentrations, groundwater was extracted and infiltrated while adding a carbon source and biomass.
The biomass is cultivated in an aboveground reactor and consists of bacteria that are equipped to break down the contamination completely. The carbon source is used as food supply for the bacteria.
In September 2014 the shopping centre opened several months earlier than expected. The public doesn't notice the on-going remediation activities, because everything happens underground. At the moment extra bacteria and food resources are being added to the area, to help further degradation. We expect that the active groundwater remediation will be completed in the spring of 2017. If this is the case we will switch to monitoring the natural degradation of the residual contamination.
Do you want to know more about our solutions for soil and groundwater contamination, please contact Adri Nipshagen.