In our densely populated country, water and soil are continuously exposed to problematic substances due to the runoff water from industry, agriculture and households and due to pollutants in rainwater. In large parts of the Netherlands discharges of pesticides and fertilizers unfortunately exceed the environmental standards on a regular bases. This puts the quality of our water, soil and therefore the biodiversity under pressure. Increasingly we read alarming reports about the declines in insect and bird populations. A key goal of our government is to improve the quality of our water and soil in the coming decade. This is a joint task for provinces, municipalities, water boards and other stakeholders, because improvement of soil and water quality is of vital importance to the ecosystem and therefore important to us all.
A natural solution for a difficult problem
An oasis of green with beautiful hiking and cycling paths along ponds with rustling reeds, surrounded with lush flowering plants, scrubs and trees. You might not immediately expect it, but such a green area can be an excellent tool in reducing the runoff of problematic substances from agricultural areas, industry and sewage treatment plants. We call these areas water corridors. Based on an ecological engineering design a water corridor can be developed in a way that enables nature to significantly degrade or retain the unwanted substances. Scientific evidence has shown that specific trees and plants can make a vital contribution to achieve this goal. For instance, willows can be used for the uptake and fixation of heavy metals, the degradation of several chlorinated hydrocarbons and the intake of an excess of nutrients caused by the use of fertilizers, manure and detergents. Subsequently the willows can be harvested and used as biomass for generating bioenergy or as raw material. In addition to their purification capacity the water corridor can be used as a stormwater containing buffer.
The designing and developing of water corridors is quite an undertaking. In the Netherlands land is scarce and the function of these areas will differ from its initial agricultural use. Obviously there will also be various technical challenges: how can we make sure that we get the runoff water where we want it to be and what is the contamination situation (what, where, how much and when)? Close collaboration of all stakeholders is necessary for these plans to succeed.
The balance of economy and ecology
Understandably the development of water corridors has economic consequences. Bioclear earth wants to be a sparring partner for provinces, municipalities, water boards, the agricultural sector and other stakeholders to address these issues. A possible solution can be financial compensations for farmers that provide their land as water corridor. In the design of the area we can choose plants and trees that can be harvested and used as raw material or as a source of bioenergy in the circular economy.
In the long term, improving water and soil quality benefits all stakeholders. Water corridors can play an important part in achieving this. It will lead to lower sewage treatment costs and last but not least an improvement of the ecosystem and biodiversity. That would surely be a win-win situation for all of us!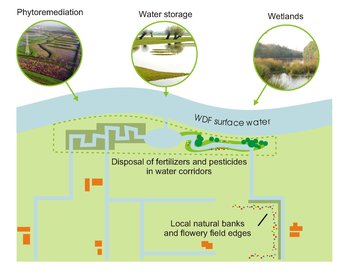 Would you like to know more on this subject? Please contact Maurice Henssen.